Efficient web development and API integration: A closer look at my work with City-Ejendomme Aalborg
New digital presence for City-Ejendomme Aalborg which includes website development with API integration. I am ready with both development and ongoing support to support City-Ejendomme in their activities.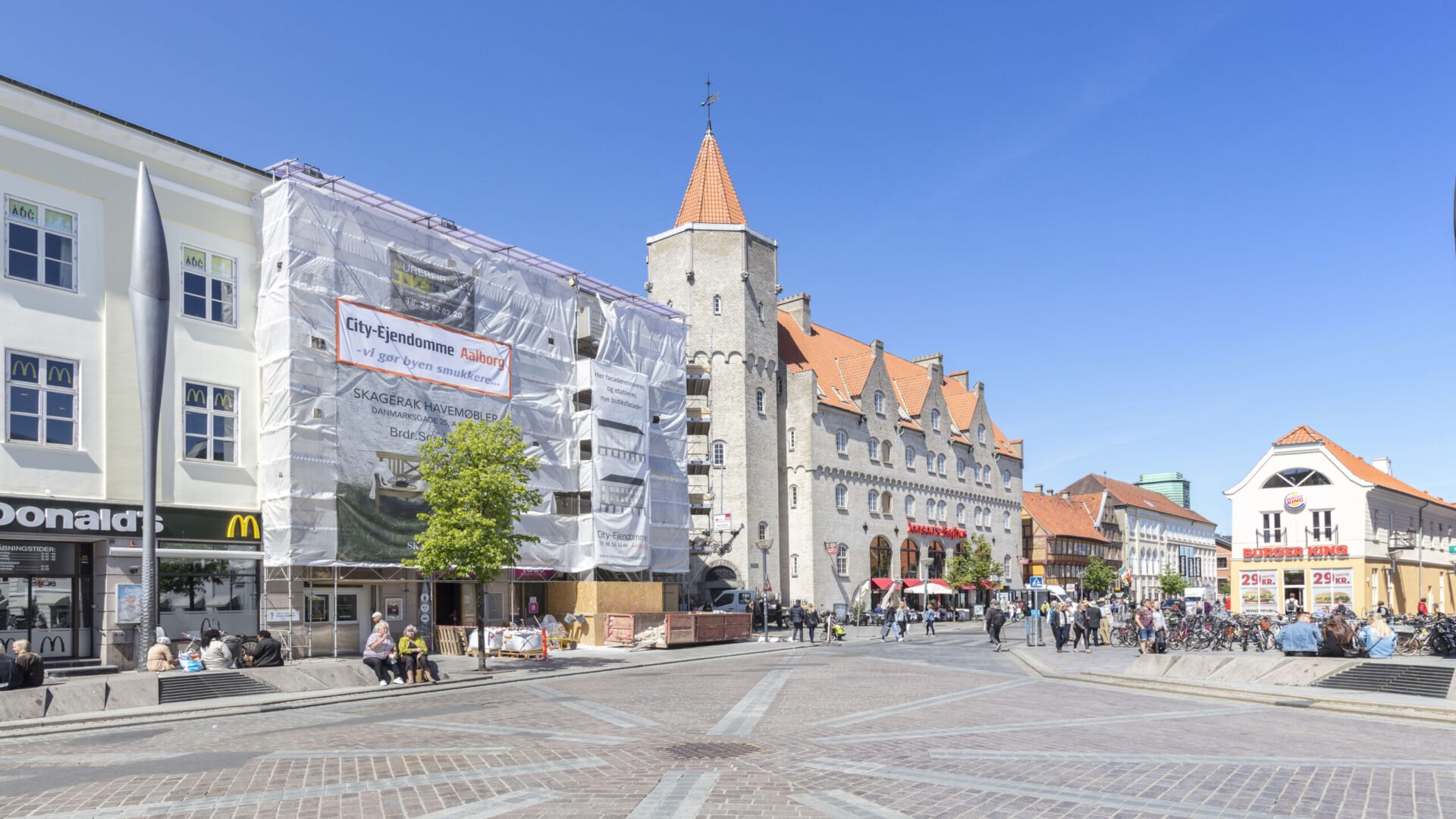 Who is City-Ejendomme Aalborg? Commitment to urban development in Aalborg and the surrounding area
City-Ejendomme Aalborg is a recognised real estate company that specialises in renting out homes in Aalborg and the surrounding area. City-Ejendomme Aalborg rents out properties in Aalborg city centre and pedestrian streets and has been in business since 1991. The company is owned and operated by Hans Andersen and a team of skilled employees.
City-Ejendomme Aalborg has a strong philosophy built on the values of honesty, sincerity and dedication to the cityscape in Aalborg city centre. As a leading player in residential property rental in the area, they have established themselves as a reliable partner and an integral part of the city's development.
As a web developer, I had the opportunity to collaborate with them and develop their website, cityejendomme.dk. However, the collaboration has not only been about the development of the website, but has also extended to operations and maintenance.
After the successful launch of the website, our collaboration continued with a focus on ensuring that cityejendomme.dk functioned optimally and maintained high quality. Operations and maintenance are crucial to ensure that the website runs smoothly, stays up to date with the latest technology and provides visitors with a positive user experience.
The need for City-Ejendomme Aalborg's new website: Efficient presentation of available leases and improved user experience
City-Ejendomme Aalborg had a clear need for a new website that could meet their specific requirements and goals. One of the main objectives was to create a more effective presentation of their available rentals. As a property rental company, it is crucial for them to be able to display their available rentals in an attractive and informative way to attract potential tenants. The new website therefore needed to present the properties in a clear and engaging way that made it easy for visitors to get a good impression of the options and find the right property.
Another important factor was to improve the user experience for both tenants and landlords on the website. It was crucial to create an intuitive and user-friendly platform where visitors could easily navigate, find relevant information and contact City-Ejendomme Aalborg. Users should have a seamless experience and be able to access the necessary information about leases, prices, location, etc.
Furthermore, City-Ejendomme Aalborg wanted to create a professional and trustworthy online presence that reflected their brand and values. The design of the website needed to be modern and in line with the company's image. It was important to highlight their commitment to the cityscape in Aalborg city centre and convey their philosophy of honesty, sincerity and dedication.
An important need for City-Ejendomme was to have a consistent and updated overview of their vacancies both on their own website and on boligportal.dk. To fulfil this need, I developed an API integration between the website and boligportal.dk. This integration made it possible to automate the update process and ensure that vacancy information was synchronised on both platforms.
This integration eliminated the need for duplication and minimised the risk of errors or inconsistent information. It allowed City-Ejendomme to maintain an updated and reliable overview of their vacancies on both their own website and boligportal.dk.
Cityejendomme.dk: A customised and functional website for City-Ejendomme Aalborg
I have been responsible for the web development of cityejendomme.dk by building a custom WordPress theme from scratch. One of my main objectives was to avoid the use of third-party extensions that simply add unnecessary code and complexity to the website. By developing a bespoke theme, I have ensured that the code is clean, efficient and optimised for specific needs.
In the design process, I focused on creating a clean and modern look that matches City-Ejendomme Aalborg's style and values. I took into account the company's brand identity and the desire for aesthetic appeal and user-friendliness. By using modern design elements, appropriate colour palettes and a structured layout strategy, I have achieved a visually appealing result.
One of the important aspects of the website development was the integration with boligportal.dk. I developed an API integration that ensures that updates of vacancies and deletion of rented properties are automatically updated on boligportal.dk via data from the website. This has made it possible for City-Ejendomme Aalborg to have a consistent and updated overview of vacancies on both platforms without the need for duplication or risk of inconsistent information.
A key consideration has been to create a user-centric experience. I emphasised making the website easy to navigate and informative, so visitors can easily find relevant information about available leases and the company's services. At the same time, I made sure the design is responsive and adapts to different screen sizes and devices, providing a consistent and optimal user experience across platforms.
On City-Ejendomme Aalborg's old website, properties were displayed in an embedded "iframe" window. But with the development of the new website, we were able to create a unique and customised presentation of the properties in exactly the format City-Ejendomme Aalborg wanted. We were able to customise the design and remove any irrelevant texts and information on the website. In addition, each property was given its own unique link path, which contributes to an improved SEO value.
By web developing cityejendomme.dk with a custom WordPress theme and a clean and modern design, I have delivered a website that not only fulfils the company's technical needs, but also reflects their professional image. The customised theme provides flexibility and allows for future customisations without negatively impacting speed and performance. The result is a website that is not only functional and aesthetically pleasing, but also improves the user experience and strengthens City-Ejendomme Aalborg's online presence.
Efficient integration with Boligportal.dk: Automated advertising of vacant leases on City-Ejendomme Aalborg's website
City-Ejendomme Aalborg uses Boligportal.dk as an important channel for advertising their vacancies. Therefore, it was crucial that their website could be seamlessly integrated with Boligportal.dk. The result was an efficient solution where City-Ejendomme Aalborg can now create their vacancies on the website and automatically make them available on Boligportal.dk.
This integration has made the process simple and time-saving for City-Ejendomme Aalborg. They only need to manage their leases on one platform, their own website. Once the leases are created and updated on the website, they automatically become visible on Boligportal.dk, providing seamless and instant visibility for potential tenants.
This automated solution ensures that there is no need for duplicate work or manual updating of vacancies on both platforms. City-Ejendomme Aalborg can maintain a consistent and updated overview of their vacancies on both their website and Boligportal.dk. This eliminates the risk of errors or inconsistent information and ensures that potential tenants always get the latest information on available rentals.
The integration between the website and Boligportal.dk has helped optimise City-Ejendomme Aalborg's advertising process and eased the daily workload for City-Ejendomme Aalborg.
A continued collaboration: Support and Maintenance of City-Ejendomme Aalborg's website
Finally, I would like to thank City-Ejendomme Aalborg for the trust they have placed in me as a web developer and for the continued co-operation. It has been a pleasure to be able to contribute to the development of their website and ensure that it works and runs smoothly. I greatly appreciate the ongoing collaboration where I am available to support and maintain their website.
Mads Andersen, City-Ejendomme Aalborg

Skilled and professional company that knows everything about design & web development. Good at counselling and quick to respond to feedback.

Web Designer LENNART C → WordPress Design & Development is highly recommended from here!

Read testimonial