Close collaboration on WordPress Website for physiotherapy company: Fysioterapien.dk
I have been lucky enough to work with Fysioterapien.dk Ballerup and Gladsaxe for many years, in fact since 2014 they have been able to use my advice and skills 🙏 The collaboration has been very broad but primarily concerned website development / design and WP operation / web hosting.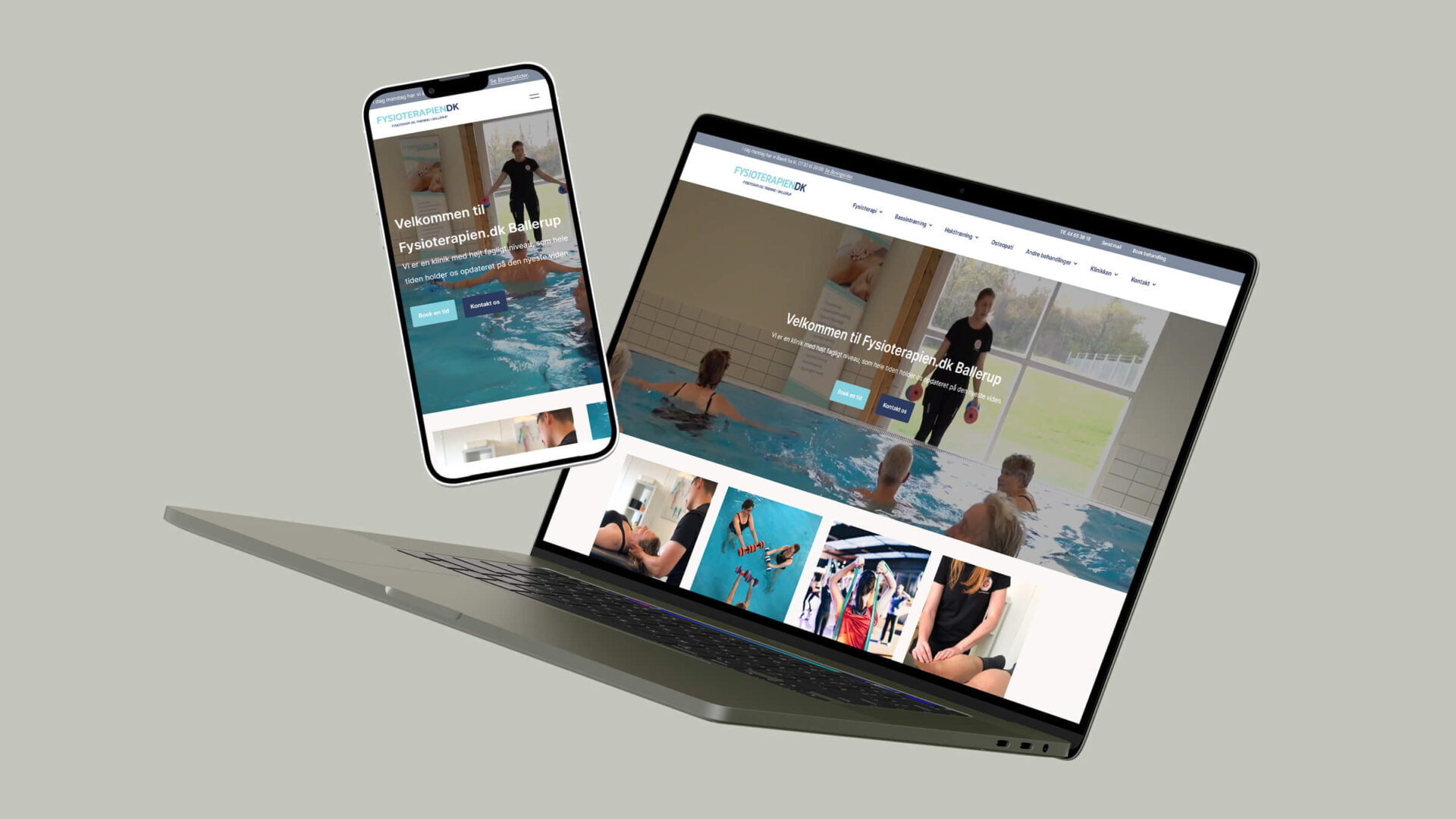 Who is Fysioterapien.dk?
Fysioterapien.dk is a physiotherapy company with two clinics in Ballerup and Gladsaxe. Both of their clinics have hot water pools, as they are very much into rehabilitation and hot water treatment.
In 2021, the two departments split up as independent clinics/companies. However, the clinics decided to continue sharing the website domain (fysioterapien.dk), which was of course a bit strange as they want to run everything as independently as possible. Which also means, for example, that there are two different SEO agencies working on the site for each clinic/business. The new site means that there are in principle three websites on fysioterapien.dk:
Fysioterapien.dk common entrance
Fysioterapien.dk/ballerup
Fysioterapien.dk/gladsaxe
The customer decided that the new site structure should be built as sub-catalogues in the primary domain name, with the sub-catalogue separated by a slash ("/"). An alternative solution would have been to build the structure as subdomains, e.g. ballerup.physioterapien.dk. However, we have set up the redirect so that if someone uses the subdomain URL, they will still be redirected to the real URL. This redirect is set up globally, which means it can also link to subpages. For example, https://ballerup.fysioterapien.dk/kontakt/ will be redirected to https://fysioterapien.dk/ballerup/kontakt/.
In connection with the new construction, in 2021, I was lucky enough to build the new website for Fysioterapien.DK Ballerup. Fysioterapien.dk Ballerup has Maria Rovsing and Camilla Julin as owners. I think that we have had a really good collaboration in building the new website and designwise we hit a calm layout, which is easy, clear and at the same time a modern website, which can do what it should, and which is also reliable and not least fast (although we have film cover on the front). As always, I built the WP theme from scratch on core WP, PHP and jquery functions in a git version controlled environment. The solution of a custom website built in WordPress is quite ideal when you want to build a new website and have full control and not rely on various third party extensions for the website to work. Technically the benefits are many and we know how everything works, ensuring a much more scalable solution.
To facilitate daily tasks, several automatic functions are built into the site. For example, today's opening hours are listed in several places on the website. For example, if it's Monday, it says at the top of the homepage that "today we are open until 8pm". In addition, it is global data so the clinic opening hours only need to be entered in one place and still works across all subpages.
The ongoing collaboration includes; WordPress service agreement, DNS, Email service and hosting for both companies.
Logo design for Fysioterapien.dk - yes, I made it 🤷‍♂️
In conclusion and as a little fun (or a little gravy for the potatoes) I just want to mention that I also made the new logo for Fysioterapien.dk, which both clinics / companies agreed to use. It's not my core competencies at all, but I have over the years built up good skills in Adobe AI (etc.), and have actually made quite a few (relatively simple) logos over the years. So when I was asked if this was something I wanted to help with, I said yes to coming up with a new logo for Fysioterapien.dk and that's what they've chosen to use to this day 😁