CCO ApS - WordPress development and design by LENNART C.
CCO ApS is the legal name of my company. In daily life, however, I just use my title and name: Web Developer LENNART C.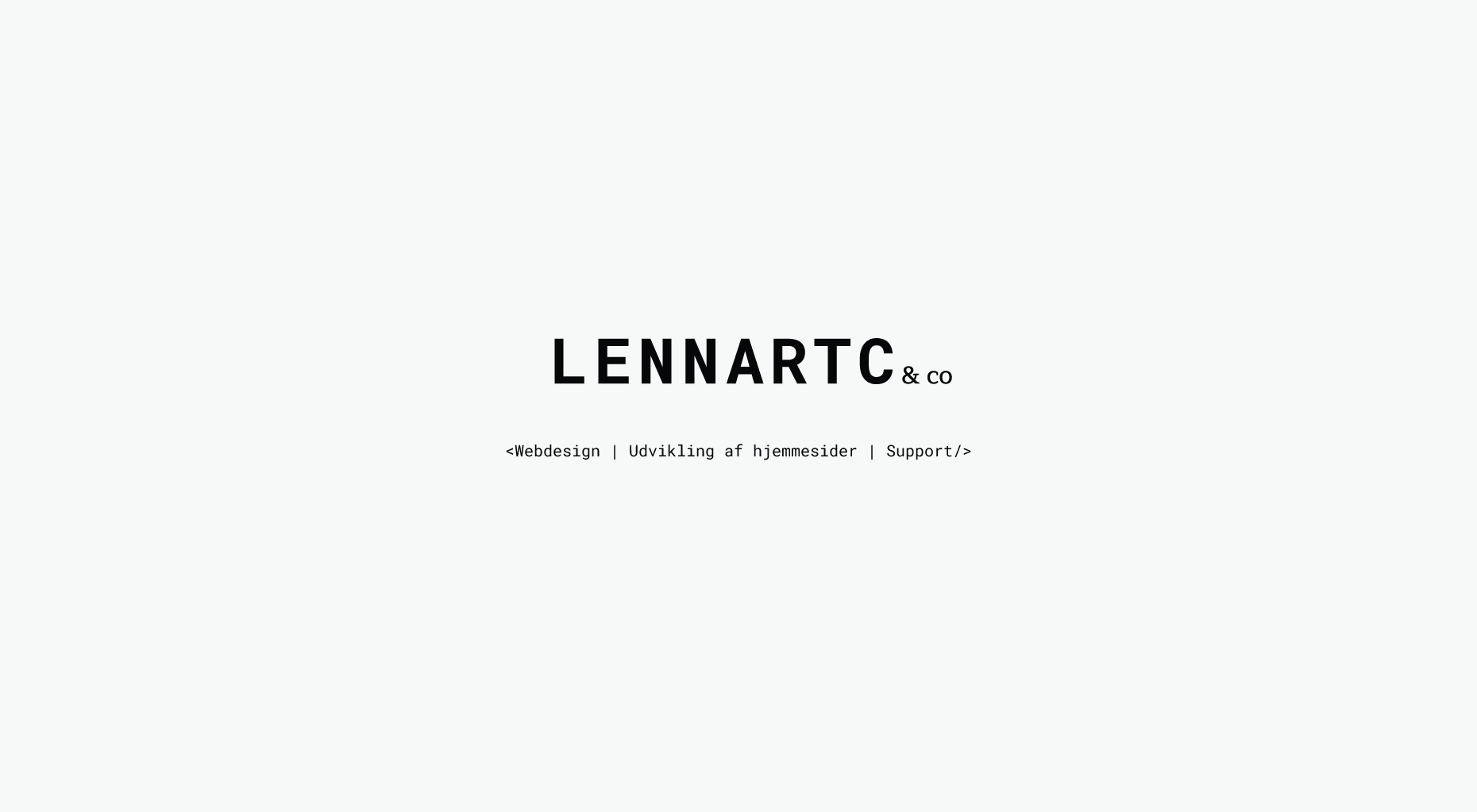 Web developer with a commercial mindset
I have been working with WordPress for many years (+10 years). I am a web developer who, besides being technically competent, also has a commercial mindset, which means I have a good practical understanding. CCO/LENNARTC is the small WordPress programming house that can accommodate the very small and the larger tasks. Here you can get a tailor-made and flexible solution that matches your wishes for functionality and design.
Lennart C & Co - a close and honest co-operation
I have worked extensively with affiliate companies (who monetise advertising links or ads), building online magazines and plugins that are used to scale business and increase revenue. I've worked/work closely with various brand webshops (e.g. lillekanin.dk, ecooking.dk and Anpe Atelier CPH) and built customised and durable and thriving webshop solutions. I have built countless business websites with "special needs" e.g. with a need for api integration (e.g. outzen-bil.dk) or websites with other special design and functional requirements (e.g. voresmarsk.dk, collagefestival.dk or tonderhallerne.dk). In addition, I also do regular smaller websites for small to medium sized businesses. Common for all is that I don't cut corners and would rather spend an extra hour for a proper piece of work. I work for various (primarily Danish) companies, but have also worked for a few foreign clients from Iceland and elsewhere.
CCO ApS - Company information
Primary employment:
Design, development/programming and operation/support of WordPress websites, WooCommerce webshops. Development/modification of WordPress plugins/extensions. In other words; I code WP plugins, wp-themes and other things you need for your website.
Company information:
CCO ApS // Webdesigner and Webdeveloper Lennart C
6700 Esbjerg, Denmark
VAT: 40078843
Phone 41148088
Mail lc@c-co.dk
Number of employees: 1 (myself)
FACTS
I have worked as independent WordPress developer for quite a few years now. Before CCO ApS, I had the web agency Meresalg ApS, which I sold at the end of 2018, where I then founded CCO ApS. CCO ApS is a name for C&CO, which is an abbreviation for Christensen & CO. It may not be the most telling company name, but I just felt that CCO ApS was a nice short and broad term for a matching company name. On a daily basis, however, I just use my title as a web developer and my name as a reference: Web developer Lennart C. CCO ApS is the correct legal name of my company.
Sponsorships and support for local sport
I am a big sports enthusiast and CCO ApS supports local sport with a small sponsorship for Esbjerg fB (football) and TM Tønder (handball). Esbjerg is a fantastic city and I have lived here since 2012. I have a lot of great football memories from the Blue Water Arena and although I have seen football places like Stamford Bridge in London, Westfalenstadion in Dortmund and Bernabéu in Madrid, the match with EfB against St Etienne from France in the Europa League in 2012 is the match I remember as perhaps my best football / stadium memory. CCO/LENNARTC also supports TM Tønder Handball with a sponsorship. Tønder is where I come from originally and is an area where I have many fantastic relationships and collaborations, such as; Toftlund Maskinfabrik, Tønder Business Council, Abstracta A/S, Voresmarsk.dk et al. For TM Tønder I am even a web partner, which means that I help with everything web, hosting, email etc. I have acted as web partner for TM Tønder since 2016. In 2016 was also the year when TM Tønder moved up to the handball league and it was a really fun time with some exciting and fun matches in the handball league where TM Tønder as underdogs made the cut and stayed in the league. Currently, TM Tønder is in the 1st division, but always great to come in and watch handball in the small hall 2 in Tønder.